Dr. Thomas Rios D.C.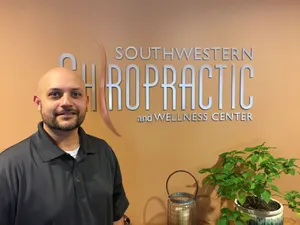 Southwestern Chiropractic and Wellness Center is thrilled to welcome Dr. Thomas Rios to the team. We hope that this addition will allow us to accommodate our loyal patients who need to be treated urgently due to injury or pain as well as scheduling your friends and family members that you so kindly refer to us.
Dr. Rios was born in Iowa City, Iowa and grew up in the birth place of chiropractic, Davenport, Iowa. His parents are both retired teachers. His mother taught behavior disorder kids and his father was a gym teacher and coach. Dr. Rios feels he is a good combination of both of their personalities. His sister is an art teacher in Davenport, Iowa and is married with two children. Dr. Rios is not married and does not have any children but he is a very proud uncle!
Dr. Rios graduated high school from Davenport Assumption where he played baseball, basketball and football. He attended Iowa State University where he played baseball, as well as Muscatine Community College and he graduated from Mt. St. Clare College. He chased his baseball dreams pitching for a few years following college traveling and playing Semi-Professional baseball as well as workouts with the Atlanta Braves, Pittsburgh Pirates and Oakland Athletics. Sports are still a big part of his life. He enjoys playing softball, baseball, basketball and golf. He is a big Iowa Hawkeye's fan. He is also an Atlanta Braves, Detroit Lions and Chicago Bulls fan.
Dr. Rios arrived in Texas in July 2014 and worked with a chiropractic company located in North Richland Hills. It is there he was able to learn how powerful chiropractic is. That opportunity fueled his passion to learn more. He was fortunate enough to come into contact with Dr. Reif and after shortly talking to him he could tell that they both share that same passion and drive to help people. He is also looking forward to helping patients change their lives and to experience the power of chiropractic care.